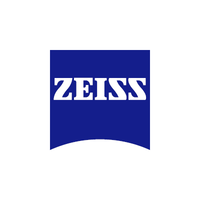 Zeiss – Does a PhD in Quantum Technology support a career in the Optics and Photonics Industry?
The short answer is "yes". For the long answer we argue that although quantum technology is on the verge of industrial relevance it has in many fields still a long way to go. So, while it is unlikely that you'll make use of your PhD topic directly, it is likely that you are nevertheless highly qualified because of your technical knowledge, e.g. in data sciences, optical sciences or system engineering – just to name a few. Not to mention the softskills you gained in between. We need teamplayers with an innovative spirit, who strive to develop, who are passionate and empathic, and who want to push the limits of what's possible.
Speaker profile: Michael Totzeck received his PhD in physics from the Technical University of Berlin in the year of the break of the Berlin Wall. After heading a group on high resolution microscopy at the University of Stuttgart he joined in 2002 Carl Zeiss as a principal scientist for polarization optics. In 2015 he became a Zeiss Fellow. In parallel he teaches technical optics and was appointed as honorary professor by the University of Konstanz in 2013. He is author and coauthor of 70 patent families and >30 papers in refereed journals. His research interests comprise any kind of science that has to do with optics, in particular imaging, metrology, lithography, quantum technology and digitalization.
Company profile: ZEISS is an internationally leading technology enterprise operating in the fields of optics and optoelectronics. In the previous fiscal year, the ZEISS Group generated annual revenue totaling 6.3 billion euros in its four segments Semiconductor Manufacturing Technology, Industrial Quality & Research, Medical Technology and Consumer Markets (status: 30 September 2020).
For its customers, ZEISS develops, produces and distributes highly innovative solutions for industrial metrology and quality assurance, microscopy solutions for the life sciences and materials research, and medical technology solutions for diagnostics and treatment in ophthalmology and microsurgery. The name ZEISS is also synonymous with the world's leading lithography optics, which are used by the chip industry to manufacture semiconductor components. There is global demand for trendsetting ZEISS brand products such as eyeglass lenses, camera lenses and binoculars.
With a portfolio aligned with future growth areas like digitalization, healthcare and Smart Production and a strong brand, ZEISS is shaping the future of technology and constantly advancing the world of optics and related fields with its solutions. The company's significant, sustainable investments in research and development lay the foundation for the success and continued expansion of ZEISS' technology and market leadership.
With over 32,000 employees, ZEISS is active globally in almost 50 countries with around 30 production sites, 60 sales and service companies and 27 research and development facilities. Founded in 1846 in Jena, the company is headquartered in Oberkochen, Germany. The Carl Zeiss Foundation, one of the largest foundations in Germany committed to the promotion of science, is the sole owner of the holding company, Carl Zeiss AG.
Company website: https://www.zeiss.com/corporate/int/home.html