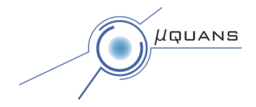 Muquans – Recent advances on quantum gravity sensors
After 10 years of activity, Muquans has proven the high potential of quantum technologies for high performance absolute gravity measurements. We will provide an overview of our Absolute Quantum Gravimeter, and will describe the competitive advantage offered by this technology. We will also present the on-going research activities that will lead to a new generation of quantum gravity sensors with improved capabilities.
Speaker profile: Bruno DESRUELLE is the Chief Executive Officer of Muquans. He received his doctorate from University Paris XI for his work on Bose-Einstein Condensation in Alain Aspect's group. He has acquired a solid industrial experience in the field of high-technology photonics business while working for Corning Incorporated in the field of DWDM optical communication systems, then for THALES Optronique where he managed the development of several complex optronics systems. He was appointed Head of the photonics domain at the office for advanced research and innovation of the French Ministry of Defence in 2005, as well as government representative for the two main competitiveness clusters in photonics. He left this position in 2010 to prepare the creation of Muquans and was appointed Chief Executive Officer of the company at its creation in 2011. He has been leading the development of the company since then.
Company profile: Muquans is a unique industrial player focusing on high-precision quantum measurements. We are committed to providing reliable high value-adding scientific instruments in various fields such as Geophysics, metrology and dissemination of Time and frequencies, research-grade laser optics. Being the world only company to manufacture and commercialize quantum sensors based on laser-cooled atoms, we are used to supporting cutting-edge research and industrial endeavors. We have developed a unique scientific and technological know-how as a spin-off from Observatoire de Paris (LNE-SYRTE) and Institut d'Optique (LP2N) in France, where the core of the technology has been developed for more than 15 years of academic research. From the beginning, Muquans has built a highly-experienced team of scientists and engineers gathering a deep expertise in each key technological domain required to provide reliable high performance instruments.
Company website: https://www.muquans.com/